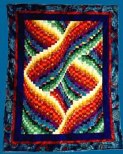 Welcome to The Pointy Needle web site.




The Home of Hand Guided Machine Quilting


Hand guided machine quilting is not an automated process. Quilts are pinned to leaders which are attached to a roller system. The long arm sewing machine head is guided by hand and the quilt is stationary instead of the machine being stationary and the fabric moving as with the traditional home sewing machine.